Ira and I got up to PV this morning, the road across the dam was closed, so we had to drive all the way around. Launched around 8:30 am and stayed until @:30 pm. Water temp was 58 degrees at launch and got up to 64 before we left. Air temp was 34 at launch. Calm conditions all day, beautiful Fall colors.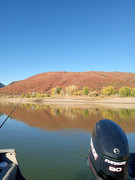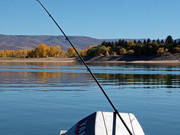 We trolled most of the day, picking up a dozen crappie between 10 and 11"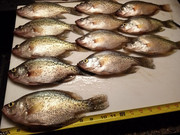 We caught about two dozen more that were smaller but none under 9". 
We finally decided to vertical jig over some good groups of what we thought were perch but we never caught and with that method.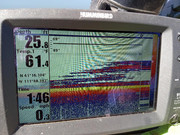 Before we left we decided to try fligging and ended up with one perch, guess we should have tried that earlier. 
Back at the ramp, my truck had a ticket on it and I walked over and talked to K2 muskie and partner, they had been out trolling for muskie and they told me that the Forest service was planning on charging $!8 until Winter closed the Port ramp, then charge $18 all Winter to use the ramp that they are going to have open at Andersen Cove. Guess we won't be fishing any more at PV, even during the Winter, bummer.